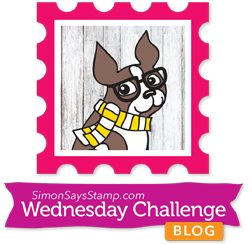 Eeeek!!  Can't believe it but I was picked from nearly 600 people to join the Wednesday Challenge DT at Simon Says Stamp!!!  Whaaaaaaaat?  YES – I know – how amazing is that?!!! The rest of the team includes these amazing people – I'm so honoured to be in this group!!!
VIRGINIA LU aka YES VIRGINIA  CARYN DAVIES aka GLITTER ME SILLY  (me!!)  JENN SHURKUS  aka CREATIVE CHICK  CHEIRON BRANDON aka MY CRAFTY LIFE   DEBBY YATES  aka A SCRAPJOURNEY  HEATHER GILFOY BOND aka HEATHER'S HAVEN  JENNIFER INGLE aka JUST JINGLE   JO NEVILL  aka BOOTS BLOGSPOT  LAURA STERCKX aka MAKING CARDS IS FUN  LIN BRANDYBERRY ,, aka SENDING HUGS   MANDY STACEY aka A SPRINKLING OF GLITTER  MELISSA BOVE aka CREATING FROM THE HEART   TERESA KLINE aka PAPERIE BLOOMS
Can't wait to start!!