You should have arrived here from the very talented blog of Lisa Stein – if you're looking for the start then head over to Sandy's Blog and start from there.  The full list of participants can be found at the bottom of this post.
I'm so happy to be part of a VERY special blog hop today organised and hosted by my lovely, kind, funny and very talented friend Sandy Allnock.  I was so happy when she asked me to join in – there are a great many causes out there and so many ways to support them – the gift of a charity donation being a GREAT way to do that!
The charity I'm supporting today is called IMPACT.  They are a fantastic organisation who help people across 11 different countries in Africa and Asia trying to reduce disability-causing diseases which leave millions of people every year suffering from life-changing illnesses.  They have a variety of different gifts you can purchase ranging from £10 for equipment to help a childbirth attendant to £200 for surgery to repair a fistula.  The gift I decided to get is The Gift of A Home Garden.  This will provide seeds, saplings and training to help establish a vegetable garden which could feed a family for a lifetime.  That must be better than giving someone a bottle of perfume or box of chocolates, mustn't it??  Along with the gift card you also receive a cotton tote bag – sweet!
And here's the card I made to go with the gift card.  I thought these wee gnomes from My Favourite Things would make the perfect partners to the theme of the gift.  I made a wee garden scene by first stencilling the Small Brick Wall stencil using different colours of Avery Elle pigment inks and Clarity Brushes (what a revelation they are)!  I then stamped a couple of the gnomes from You Gnome Me and coloured them using Copics and Distress markers.  I built up the rest of the garden using die-namics – Grassy Fields and Spring Garden (now seems to be discontinued but is still available at Seven Hills Crafts!).  
Awesome companies are helping inspire you to hop along and leave comments on all the blogs – Altenew ($30), Lawn Fawn ($50), My Favorite Things ($25), and Ellen Hutson ($25)! Be sure to go say thanks to them on their social media for helping get the word out about giving…and leave comments by Wednesday March 22. Winners will be announced on Sandy's blog on Thursday March 23, along with a total amount we've raised together!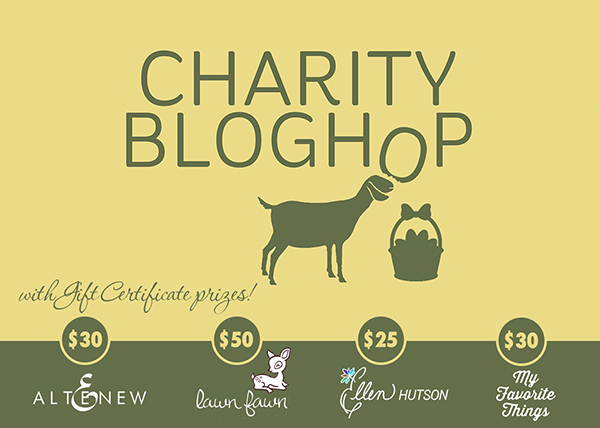 And here is the full list of hoppers – if you get lost at any point head back to Sandy's blog and start from there.  Your next stop is Carly Tee Minner