Wow – is it that time again already?  These months are just flying by aren't they?  I'll need to start on my Christmas cards soon!
Before I share my cards for today I wanted to just tell you all about the fabulous weekend I just enjoyed with my CBS girls Stephanie and Aimes (and CBS boy Dean xxx)!  Where I live (on the Wirral) there is a small stamping festival called Happy Stampers that has been taking place twice-yearly for over 15 years.  It's always so busy and most years I haven't even been able to get a ticket!  You may remember that Clearly Besotted was invited to attend as a retailer last October and about 5 nan-seconds after Steph asked if I'd be interested in doing it with her – it was all agreed.  Well, this weekend we did it again – with an even bigger and better stand and all I can say is WOW – what a fantastic day.  Here's a couple of photos we took…
Steph was also asked if she would be willing to do a workshop with the Happy Stampers club – a fabulous bunch of ladies I might add!  Much to mine and Aimes delight she said yes – what a fun day we had!
And a few photos: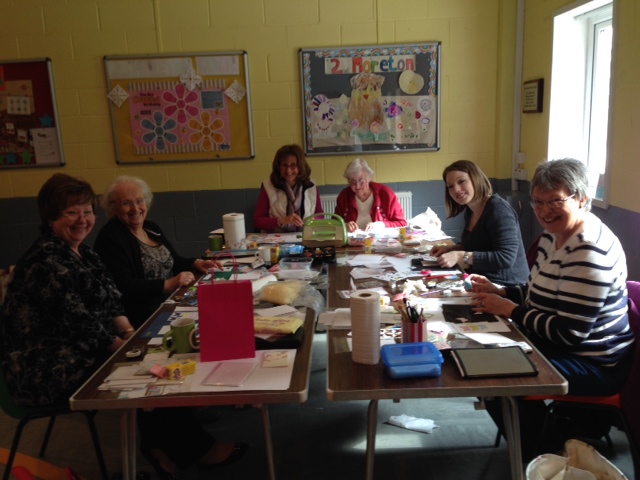 Although we were exhausted by the end of the weekend, we would all agree that it was an absolute blast – we met some awesome friends both at the show and the workshop and lots of lovely faces from around blogland.
Right – well I guess I should get on with the real purpose of this post (assuming you're still with me??!!)  Today sees the start of the April release sneak peaks and what scrummy delights Steph has in store this month.  Something for everyone I would say! Today I'm featuring Fresh Flowers – I love this set, the blooms are a dream to colour.
As you can see both of these cards were made for Mother's Day (which has just passed on Sunday).  The first was stamped and embossed in white onto Tim Holtz water colour paper.  I then coloured the flower in with Distress Ink in Picked Raspberry and Mowed Lawn.  The "Happy" die cute is one of Steph's new word dies – isn't it fabulous?!
The second card is using another flower from the Fresh Flowers set (there are three in total) and this time it was again stamped and embossed in white but I added the detail using a white gel pen. I inked the edge of the panel with Pure White Avery Elle pigment ink and added a stitched detail again with a white gel pen.
Steph and The rest of the amazing DT are also sharing some  samples showcasing this month's release so make sure you head over to Steph's blog for all the links.  We also have the gorgeous Tracey McNeely and Laurie Wilison (my idol) joining us again this month as guesties – yay!!!