Hello all – well what a weekend I've just had.  I got together with two of my favourite crafty pals, Stephanie and Aimes to attend the Happy Stampers North West Stamp Show which is held twice a year in the beautiful Hulme Hall here on the Wirral.  Steph was asked if she'd like to participate with a stand at the show and she said yes – yippee!  Apart from a couple of VERY late nights and a case of virtual exhaustion – it was fantastic!  Steph put so much thought and care into the display — it looked beautiful and we were run off our feet all day!  We were also lucky enough to meet a few fellow bloggers too – hey Vicky – which was lovely.  I think Clearly Besotted Stamps may have picked up quite a few new very happy customers!!
Here's the three of us right at the start.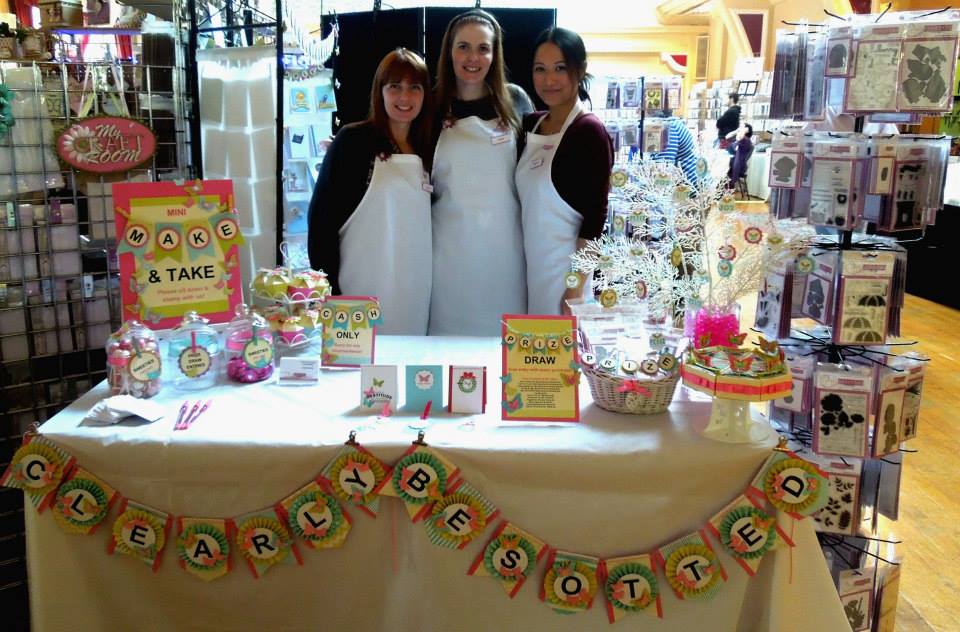 Steph's lovely hubby Dean was with us all day too – what a star!
Here's one of the cards I rustled up for the show using one of my all time favourite sets, Thinking of You.
Well, my last couple of late nights are seriously catching up on me now so must dash.
Thanks for stopping by.
Caryn xxx